Own your meetings, from agenda to minutes
Meeting Management Solution for your Board, Executive and Team
No obligations. No credit card required
Watch the video
Trusted by over 10 000 organizations across 105 countries
Beenote, for efficient and well-documented meetings
BETTER TIME MANAGEMENT
Free up to 14 hours per month in your agenda.​ Finally more time for other tasks!
STRUCTURED MEETINGS
Prepare an agenda in a collaborative mode with a predefined or customized template.
DOCUMENT YOUR MEETINGS
Complete your projects quickly by having a follow-up of the team's decision, tasks and actions.
REMOTE MEETINGS
When you work from home, use Beenote to structure and document your online meetings.
Your time is important, so use it effectively
Organize a clear and structured agenda
Collaborate on writing the agenda in order to cut down on the back and forth emails. All participants will have access to the agenda in Beenote so that they are well prepared for the meeting.
Write the minutes quickly
Write down your collaborative notes, decisions and tasks during your meeting and they will automatically be added to the minutes. Then share your minutes. That's it!
Hold your meeting on schedule
By respecting the agenda, you will have meetings that end on time using timekeeper that shows you the time by subject and the overall time of the meeting.
Keep track of team tasks and decisions
During your board, committee or team meeting, assign tasks to your teammates and follow up afterwards.
Beenote works with us before, during and after the meetings. We are better structured and the minutes of meeting does provide an overview of all the decisions we made. For each task assigned during our meetings, there is a person in charge: what better way to be effective!
Annick Breton, CPA, CGA
Senior Director - Canadian Taxation, Raymond Chabot Grant Thornton
Since we have been using Beenote, our meetings end on time, even before the scheduled time. In addition, people arrive prepared.
Viviane Couto
Communications Projects Manager, Quebec Technology Association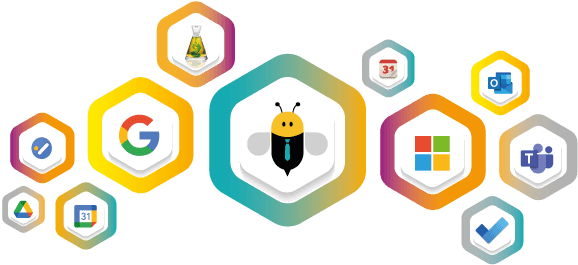 Integrated into the tools you use. More efficient meetings, always!
Correct spelling mistakes directly in your agenda/minutes using Antidote or quickly schedule meetings in your work environment (Microsoft 365, Teams or Google Workspace)
Our integrations are made to simplify your tasks at all times!
Directors, project managers and board members use Beenote to structure their meetings
For your executive committee
For all types of meetings
Join 10 000+ teams in 105+ countries who have more efficient meetings now!
No obligation. No credit card required