Organize, hold your meeting and follow up on your actions with a meeting management tool
No obligations. No credit card required
Trusted by over 10 000 organizations across 105 countries
The only tool to make your meetings, a team's success
Meetings are useful and essential to the organization. They forge team spirit, collaboration, generate new ideas and solve important problems. Beenote takes charge of planning, execution and action follow-up and you, the control of your meetings from beginning to the end.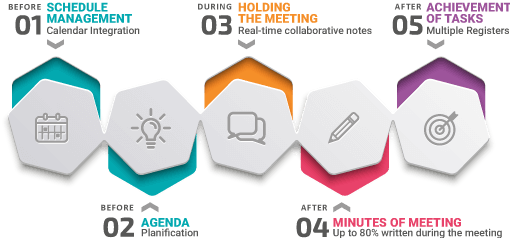 Plan your meeting schedules without hassle
Forget the round-trip emails to validate a meeting time and date, all this is done directly in your corporate calendar. Beenote is integrated with Microsoft 365, Teams, and Google to easily find a schedule that works for everyone.
Automatic Reminders & Notifications
Plan your agenda with your teammates
Prepare a clear and effective collaborative agenda for successful meetings with a pre-built agenda template. Automate your agenda planning process.
Once your agenda is written, inform your teammates of the meeting content by email so they can be well prepared.
Recurrences & Duplication
Export your Agenda in PDF Format
Pre-built or Customizable Agenda Templates
Real-Time Collaborative Meetings
GLOBAL AND BY TOPIC TIMEKEEPER
PROPOSE AND SUPPORT A DECISION
Share the minutes of meeting quickly
Save time in writing by automatically generating minutes of meeting that you can easily print or share by email.
Have access to over 1800 options to view the minutes.
Private Minutes to the Team
Start your meeting in less than 20 seconds
During a meeting or afterwards, Beenote allows you to assign, monitor and accomplish tasks and see the tangible results of your actions in order to successfully carry out your team projects.
Follow-up on tasks added to the next agenda
Microsoft To Do or Google Tasks Integration
Assign tasks in real-time in meetings
Team and personal task management
"Beenote has transformed my management and governance, in addition to facilitating and standardizing processes. I have reduced the time spent on meetings by 50%. I used to spend a day planning my meetings and publishing them, and with Beenote, now I only spend half a day. Substantial time savings, it's perfect for me!"
Sonia Janelle | Governance and support - General Management
Apply good governance to your board and committee meetings

How do Beenote teams use Beenote for their meetings?
Introduce Beenote to your team with this handy brochure
Join over 10,000 who have better meetings with Beenote
No obligation. No credit card required